The Centrum Arts League was chartered in the summer of 1998 with its mission to support Cypress Creek FACE. This volunteer group, with over 125 members, raises funds each year to sponsor the Free Children's Series, the Focus on Education scholarships, the Summer Camp program as well as helping to fund the FACE operating budget.
Additionally, the League provides countless hours of volunteer work and forms a strong base of community support for FACE concerts at The Centrum.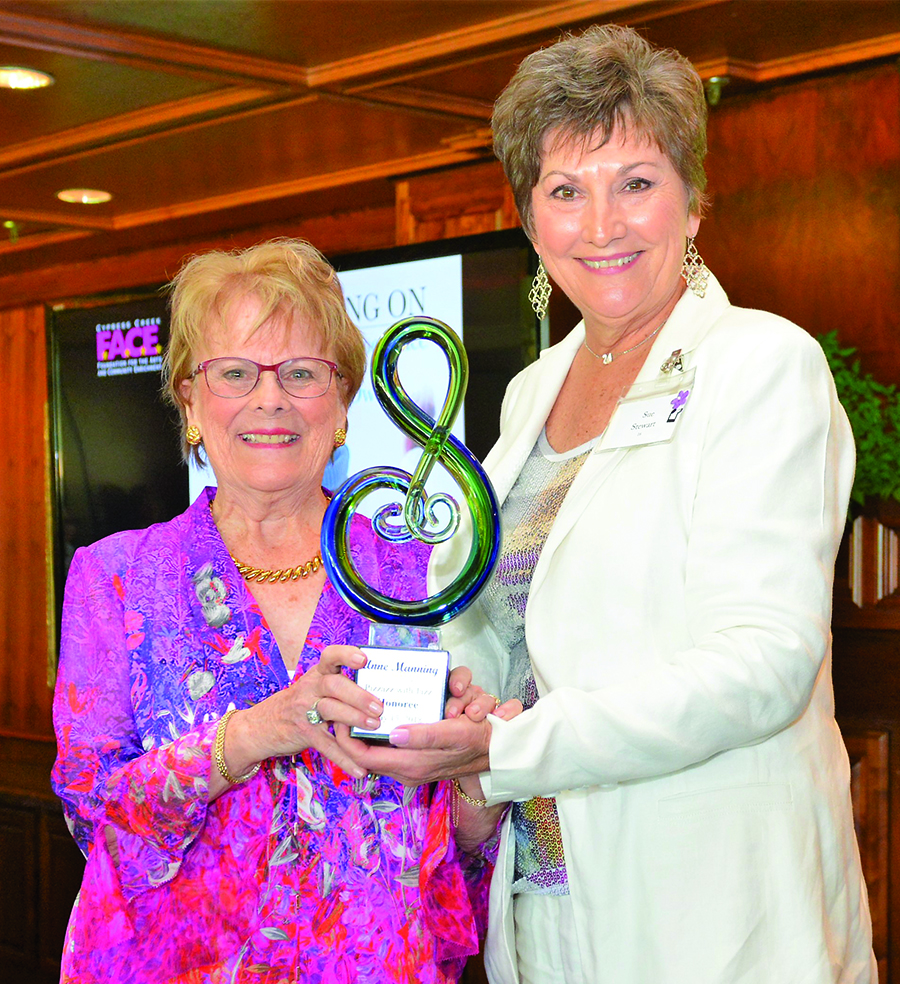 Since 1998, The Centrum Arts League has raised over $1,700,000 to support the mission of Cypress Creek FACE. Throughout the year, the League hosts a number of varied educational, social, entertainment and fundraising events. The events include: a Membership Coffee in the fall, an Annual Gala in fall before Cypress Creek FACE's Star-Lit! Series opening night, a Holiday Luncheon in December, and an annual "Pizzazz with Jazz" Fundraising Luncheon in May.

If you would like to join this fun and dynamic group of ladies, click the Membership box below to fill out the membership form, pay the annual dues and join the email and snail mailing lists to find out what's coming up next.
We are excited to announce our 27th Annual Best of the Northwest Gala, "Thank You for the Music!", will honor Diane & Larry Lipton on Friday, September 22, 2023 at CityPlace Marriott at Springwoods Village.
Thank you!

Sue Stewart
President
The Centrum Arts League


---
2023-2024 Board of Directors
President – Paislea Stolarski
Secretary – Glenda Bettis
Treasurer – Leanne Drake
Membership – Nita Bedford
Corresponding Secretary – Anne Manning
Historian/Photographer – Beth Tucker
Artist Hospitality – Sandra Loyd
Scholarship Coordinator – Linda Pennell
Past President Nominating Chair – Sue Stewart
Members-at-Large: Diane Brooks, Helene Burris, Nancy Grayson, Sharon Hemphill, Susan Killman, Fran Mason, Candy Rigo & Lauren Simmons
Committee Chairs
Best of the Northwest Gala 2023 Chairs: Nita Bedford & Sandra Loyd
Members Christmas Luncheon Chairs: Nancy Grayson & Anne Manning
Upcoming Events
Membership Morning Mixer 2023 – Monday, August 28, 2023 at the Pearl Fincher Museum of Fine Arts – RSVP Here
Best of the Northwest Gala 2023 – Friday, September 22, 2023 at Houston CityPlace Marriott Springwoods Village Honoring Diane & Larry Lipton
Membership Christmas Luncheon at Champions – Thursday, December 7, 2023
Pizzazz with Jazz 2024 – Thursday, May 2, 2024 at Shirley Acres